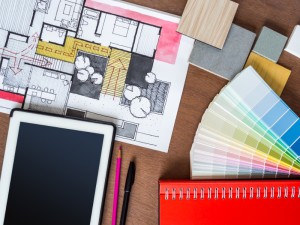 You don't need to set up an appointment with a professional just to check out the latest in interior design. To help you look for inspiration, here are 10 interior design apps and sites you need to try.
1. House of Turquoise– If you're a fan of the color turquoise, you'll find yourself visiting this website a lot. The blog regularly posts design ideas featuring this lively color, but if you're not a fan, you'll still find this blog to be a treasure trove of home design ideas.
2. Color Snap– Ever spotted a color you'd like for your walls? Color Snap will help you find the paint color that matches the hue you've been eyeing. Through the app, snap a photo of the color you like (whether it's a coffee mug or a tree bark) and the app will find its exact copy. All you need to do now is head to the nearest paint store!
3. Nous Décor– Nous Décor is great for budding interior designers and home owners looking for different kinds of design inspiration. The website collates content from different bloggers, giving you access to a ton of design information. The best part, however, is that you can hire one of the Nous Décor designers to work for you.
4. Floor Planner– Will this gorgeous hardwood match your walls? How about the measurements? Floor Planner is a website that helps you create floor plans – an assistant you'd love to have come renovation day.
5. Design*Sponge– Design*Sponge is well-known among interior design enthusiasts. Although they have expanded their content over the years, their interior design features are still some of the best out there. Design*Sponge mostly does pieces on eclectic design, but you'll also find a variety of styles on the site.
6. Like That Décor and Furniture– Snap a photo of your favorite furniture and décor finds, and this app will save your photos for you so you can buy them at a later date. The app also allows you to look and purchase décor and furniture from popular stores such as Restoration Hardware, Etsy, and Serena & Lily.
7. Young House Love– Young House Love is perfect for homeowners who want to decorate their homes with the family in mind. The website contains approximately 3,000 projects that will help transform your home into a stylish, comfortable, and family-friendly abode.
8. Coco + Kelley– Coco + Kelly is a favorite among practical home owners as they categorize their design tips and ideas by room. After all, that's how most homeowners really decorate.
9. Decor8– Decor8 is a design website most known for their topnotch DIY projects. The website also contains designer and stylists sections where you can get great tips from both established and up-and-coming interior designers.
10. Décor Happy– Curated by designer Vanessa Francis, Décor Happy regularly features room design challenges, styling tips, and input from fellow designers.
Design trends come and go. For additional reading, check out our post about home design styles you should avoid.