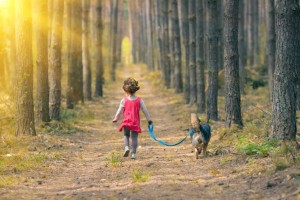 The hiking trails in Westchester County are some of the most scenic trails you'll find in the entire region, offering enjoyable and unforgettable adventures for nature enthusiasts of all ages.
The best part is, many of these trails are also dog-friendly, perfect for hikers who want their canine buddy to tag along.
Here are a few of the best dog-friendly hiking trails to check out in the area:
Granite Knolls Park, Yorktown
3.5 miles
Difficulty: Easy
Granite Knolls Park's 3.5-mile circuit loop hike takes about two hours to complete. The area is the site for small-scale quarry operations, so you'll be able to see plenty of interesting boulders and rock formations throughout the trail. One of the trail's highlights is an enormous glacier erratic nicknamed the "Giant Boulder."
Bronx River Parkway Reservation, Bronxville
9.8 miles
Difficulty: Easy
Completed in 1925, Bronx River Parkway Reservation is one of Westchester County's oldest parks, as well as one of the country's first linear parks. The hiking trail runs mostly alongside a river, meandering through picturesque meadows, soaring woods, and a railroad underpass.
Hudson Highlands Gateway Park, Cortlandt
4.3 miles
Difficulty: Moderate
Once a lookout site during the Revolotuionary War, Hudson Highlands Gateway Park is now a popular destination for outdoor lovers looking to enjoy activities such as hiking, fishing, skiing, and snowshoeing. The hiking trail's starting point can be located along the hillside, where it enters into a vast forested area before proceeding to a steep uphill climb. Hikers will be able to enjoy a breathtaking panoramic view once they reach the viewpoint located at a stone fireplace.
Mountain Lakes County Park
5.5 miles
Difficulty: Moderate
This 5.5-mile circuit loop features majestic surroundings with unique rock outcrops, serene lakes, gently meandering streams, and enchanting hardwood forests. The park is the highest point in Westchester County – breathtaking views stretching beyond the horizon are in store for those planning an outdoor adventure.
For more great activities in Westchester County, visit this page.