Westchester County may be known to most people as a hub of arts and culture as well as great food, but outdoor enthusiasts are taking note of the area's hiking trails. Although you can't find any towering mountain in Westchester County, these hiking trails will take you to panoramic vistas that will be etched in your mind forever.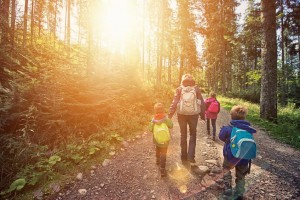 1. Mianus River Gorge Preserve
Located in Bedford, the Mianus River Gorge Preserve is great for children and beginners. It's not so high – it's just approximately 40 feet above the river, but the height is sufficient to give you splendid views of the Mianus River. In addition to its friendliness to hiking beginners, the Mianus River Gorge Preserve trail is one of the oldest Nature Conservancy preserves in the country.
2. Westmoreland Sanctuary
Described by expert outdoorsmen and outdoorswomen as a secluded spot where you can enjoy the sights and smells of nature, Westmoreland is indeed a sanctuary. The forest, which can rise up to 730 feet, is home to quartz rock outcroppings, stone walls, gushing streams, as well as ponds. This beautiful forest is also located near Mount Kisco.
3. Arthur W. Butler Memorial Sanctuary
Another hiking trail located near Mount Kisco, Butler Sanctuary is actually situated right across the Westmoreland Sanctuary. The climb starts off right of Interstate 684 and can take you up to 753 feet. Bird watchers flock here in the autumn in hopes of a hawk sighting, which is frequent about 750 feet from the trailhead. Butler Sanctuary also hides a gem – a swampland in the lower part of the trail that looks like it came straight out of the pages of Alice in Wonderland.
4. Ward Pound Ridge Reservation
Recognized as one of the best parks in Westchester County, the Ward Pound Ridge Reservation features the five-mile Star Loop, which can go up to 860 feet. Broad and well-maintained by dedicated park ranges, this trail offers scenic vistas of the Cross River Reservoir and numerous wildlife sightings. To top it all off, the trail will also pass by the cave of the Leatherman, a popular 19th-century figure in Westchester lore.
5. Anthony's Nose
Supposedly named after a pre-Revolutionary War captain that can river Cyrano de Bergerac's famous sniffer, the Anthony's Nose trail begins off Route 6 and will take you up to 900 feet, where you can catch your breath and take in the gorgeous views of the Hudson River and the Bear Mountain Bridge. The trail is also part of the famous Appalachian Trail.
Hiking alone or with friends and family is great, but hiking with dogs is also a memorable adventure. Check out this page for information on dog-friendly hiking trails in Westchester County